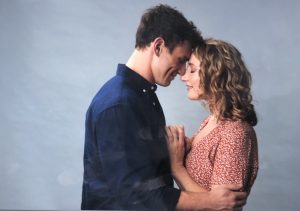 THE LAST FIVE YEARS
THE LAST FIVE YEARS is an enchanting musical that captures some of the most poignant and uplifting moments in a modern romance. Written and composed by Jason Robert Brown, THE LAST FIVE YEARS is a contemporary cult hit that explores a five-year relationship between Jamie Wellerstein, a rising novelist, and Cathy Hiatt, a struggling actress.
The show uses a form of storytelling in which Cathy's story is told in reverse chronological order (beginning the show at the end of the marriage), and Jamie's is told in chronological order (starting just after the couple have first met). The characters do not directly interact except for a wedding song in the middle as their timelines intersect.
THE LAST FIVE YEARS is a brilliantly funny and tender look at a burgeoning relationship from two perspectives and told in the intimate space of the Ensemble Theatre it is a recipe sure to lift the roof of the building!
Featuring the incomparable talents of Elise McCann as Cathy (Miss Honey – MATILDA THE MUSICAL),and Christian Charisiou as Jamie (Cry Baby – CRY BABY), THE LAST FIVE YEARS is a musical deconstruction of a love affair which looks forwards and backwards at the ups and downs of modern love and relationships.
Winner of the 2002 Drama Desk Award for Outstanding Music and Lyrics, Jason Robert Brown's award-winning musical is told through powerful, engaging songs that invite you to lean in and catch every clever turn of phrase.
Tickets are on sale now here
Buy Tickets
Read Production Information
share this page