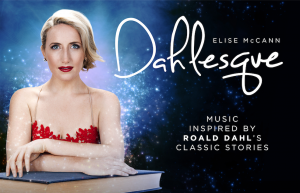 Dahlesque
Elise's Debut Album DAHLESQUE was released nationally under ABC Music/Universal on Friday 23rd June 2017.  The physical album features two original new compositions by Stephen Amos of Roald Dahl's Revolting Rhymes, created expressly for this album and featured exclusively on the physical album only. The physical album can be purchased through the ABC Online Store, or at Sanity or JB-Hi-Fi.  Dahlesque is also available digitally through iTunes or Spotify. Read more and learn about the album on our Album page
Elise recently appeared in the World Premiere DAHLESQUE Concert at the 2017 Adelaide Cabaret Festival from June 17-18.
This irreverent and magical concert explores the fantastical imagination and wickedly unforgettable characters of one of the world's best selling authors.  Featuring music from adaptations of Roald Dahl's classic stories including Tim Minchin's mega-hit Matilda, the classic Gene Wilder movie Willy Wonka and the Chocolate Factory, Pasek & Paul's James and the Giant Peach, Marc Shaiman & Scott Wittman's Charlie and the Chocolate Factory and original compositions of Roald Dahl's Revolting Rhymes, all performed with an incredible 12 piece orchestra.
Written by Elise McCann and Richard Carroll, Musical Arrangements by Stephen Amos, Directed By Sheridan Harbridge and Ben Gerrard, Musically Directed by Michael Tyack, Costume designed by Daniel Learmont Couture.  DAHLESQUE is an evening of anarchic, outrageous, grotesque, moving, heart pounding, playful, rude and imaginative storytelling!
Elise will next be performing DAHLESQUE with the Melbourne Symphony Orchestra in April 2018.  She is performing two 50minute children shows and two 70minute All Ages Full Length Shows. Tickets can be purchased by following the link below to the MSO website.
Subscribe for updates on Dahlesque
Buy Tickets
Read Production Information
share this page