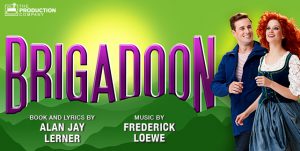 Brigadoon
BRIGADOON is the story of two young American tourists lost in the Highlands of Scotland, who stumble upon a mysterious village called Brigadoon. Tommy (Rohan Browne), one of the tourists, meets and falls in love with Fiona (Genevieve Kingsford), a feisty young woman. But Tommy discovers that magically Brigadoon only appears for one day every one hundred years.
Lerner and Loewe, who created Gigi, My Fair Lady and Camelot, created some of their best loved standards for BRIGADOON – Almost Like Being In Love, I'll Go Home With Bonnie Jean and The Heather on The Hill.
This incredible classic is being brought back to the stage by Melbourne's finest repertory Theatre Company – The Production Company.  Starring the legendary Nancye Hayes as Brigadoon's much loved matriarch, Mrs Forsythe and Helpmann Award winner Elise McCann as the hilarious and love hungry Meg Brockie.
BRIGADOON is Directed by Jason Langley and Musically Directed by Michael Tyack, with Choreography by Cameron Mitchell.  It is running in Melbourne at The State Theatre for a strictly limited season from October 28th 2017.
Buy Tickets
Read Production Information
share this page