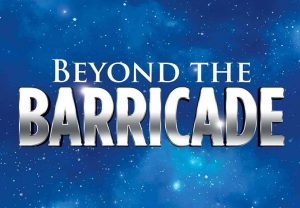 BEYOND THE BARRICADE
Multi award-winning actor Elise McCann joined the cast of the UK's critically-acclaimed show BEYOND THE BARRICADE, touring across Australia in a glittering concert of musical showstoppers. Elise replaced Katie Leeming who has had to return to the UK due to ill health. The blockbusting two-hour show features favourite songs from the world's greatest West End and Broadway musicals including the latest sensation Hamilton, The Phantom of the Opera, Chicago, Evita, Wicked, Miss Saigon, Mamma Mia, Jesus Christ Superstar, The Lion King and of course Les Misérables, to name just a few.
Elise joins three past principal performers from London's longest-running musical Les Misérables, in the West End and on UK tour – Andy Reiss who has played numerous male roles including Jean Valjean and Enjolras; David Fawcett who played Valjean; and Poppy Tierney who played Cosette.
BEYOND THE BARRICADE has been delighting audiences throughout the UK and Europe for 19 years, from London's Royal Albert Hall to the Queen Elizabeth, Queen Mary 2 and Queen Victoria Cunard cruise liners. The show made its debut in Asia in 2015, performing sold-out concerts in Manila, Singapore and Hong Kong, followed by a 21-venue tour of New Zealand in 2016. Due to popular demand BEYOND THE BARRICADE returned to New Zealand earlier this year, before embarking on its debut tour of Australia in June 2018.
BEYOND THE BARRICADE played 25 cities around Australia across Perth, Victoria, NSW and QLD.
share this page